ExpressPath to Your Future

Advance your job skills or train for a new career in one year or less at McLennan.
Please visit us at one of our upcoming Open Houses around McLennan county for more information about how you can get started on the ExpressPath to your Future!
Walk-ins are welcome. Please note: Face coverings are required.
For more information, call 254-299-8622 or email highlandercentral@mclennan.edu. 
---
Certificates & Occupational Skills Awards
$ Certificate Qualifies for Financial Aid
💻 Online Option
---
McLennan is proud to join other community colleges across the state in the Texas Association of Community College's Texas Reskilling & Upskilling through Education (TRUE) campaign. The goal of the initiative is to prepare 300,000 Texans for financially-stable careers within 300 days while building permanent talent pipelines to support thriving industries throughout the state.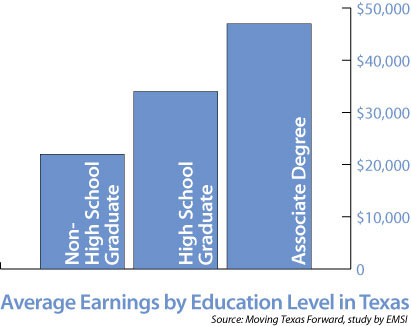 Research shows that furthering your education can give you an advantage and help you land a higher-paying job, and you don't have to spend a lot of time to get trained. McLennan offers an extensive list of certificate and occupational skills awards that can be completed in one year or less.
See how Community Colleges boost the Texas Economy.
Apply for Scholarships through the MCC Foundation to help you get started as soon as possible.