Health Information Technology
Welcome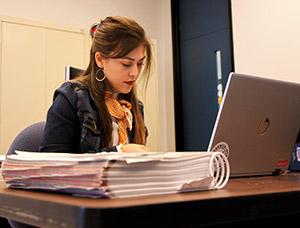 See Program Video
The Health Information Technology program is designed to prepare graduates to perform technical duties vital to health information departments in any health care facility. The health information technician is responsible for many aspects of preparing, analyzing and preserving health information needed by the patient, the health care facility and the public. Duties include reviewing medical records for completeness and accuracy and translating disease names and procedures into the appropriate codes.
Health information technicians are also responsible for maintaining and reporting patient data used for reimbursement, conducting quality of care studies, performing research, and compiling statistics for the health care organizations. Supervising day-to-day operation of a health information department, managing the work flow of health information within the organization and maintaining confidentiality of patient information also fall under the responsibilities of health information technicians.
With a degree in health information technology, you will be able to work in a variety of health care settings, including hospitals, physician clinics, mental health centers, long-term care facilities and other health-related agencies.
This degree is available completely online. Ask your advisor or visit www.McLennanOnline.com for more details.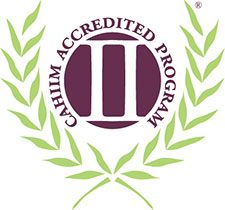 Mission:
McLennan Community College's Health Information Technology program provides the pathway to enrich and engage members of the health information management profession through educational attainment, best practices, and integrity.
Program Accreditation
2021-2022
Certification exam pass rate: 100%
Students graduating within expected time frame: 100%
Student Satisfaction Rate: 100%
Employment: 100%
Graduation Rate: 67%
The Health Information Management accreditor of McLennan Community College is the Commission on Accreditation for Health Informatics and Information Management Education (CAHIIM). The College's accreditation for associate degree in Health Information Technology has been reaffirmed through 2029. All inquiries about the program's accreditation status should be directed by mail to CAHIIM, 200 East Randolph Street, Suite 5100, Chicago, IL, 60601; by phone at (312) 235-3255; or by email at info@cahiim.org.
The Health Information Technology associate degree program is accredited by the Commission on Accreditation for Health Informatics and Information Management Education (CAHIIM).
For More Information
Questions related to college operations including admission to the college, financial aid, registration, etc. Please contact:
Allyson Huntley
Advising Specialist
ahuntley@mclennan.edu
(254) 299-8573
Questions related to the HITT degree or certificate including program admission, course progression, etc. Please contact:
Lesley Plemons MS, RHIA
Program Director
lplemons@mclennan.edu
254-299-8233
For students in this program who may have a criminal background, please be advised that the background could keep you from being licensed by the State of Texas. If you have a question about your background and licensure, please speak with your faculty member or program director. You also have the right to request a criminal history evaluation letter from the applicable licensing agency.