Fire Protection Technology
The Fire Protection Technology program is for individuals interested in becoming certified structural firefighters. Students who successfully complete the curriculum will be awarded a Certificate of Completion and will be eligible to take the state certification exam. This program also offers Continuing Education courses for current firefighters.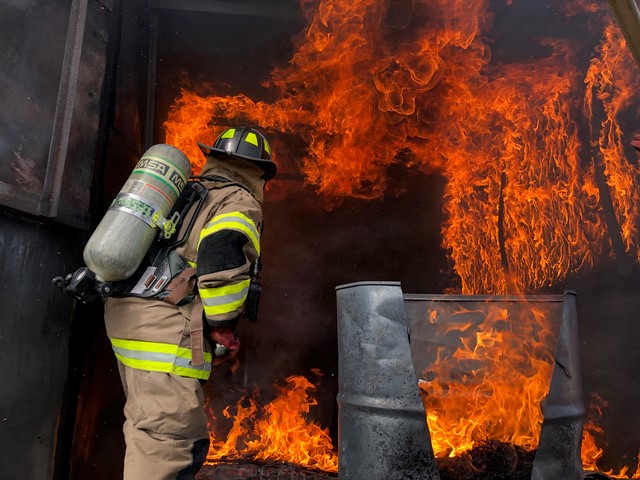 Upcoming Courses
---
Fall 2023 Academy
Dates: Begins August 21, 2023 ends December 1, 2023
Preregistration will begin in April 
Classes run 8 a.m. to 5 p.m., five days a week with one Saturday class for vehicle rescue. The fire academy is a one-semester level 1 certificate program. Students may start the process of applying now by going to Become A Student and begin step two and apply for financial aid. The fire academy is eligible for all financial aid.
About: This is an approved Basic Structural Firefighter course for certification as a firefighter in Texas. In order to be certified as a firefighter in Texas, cadets should also take the Emergency Medical Technician course, which is also available through McLennan Community College.
Registration: Contact the program coordinator, Stephen Cook, at 254-299-6511 or 254-717-8931 (cell) to schedule an appointment or send an email to scook@mclennan.edu.
---
Program costs
In county: $3653
Out of county: $4085
Out of state: $5453
Tuition and fees include bunker gear use, leather firefighting boots and gloves, uniform shirts, uniform jacket, workout shorts and shirts, and state testing fees. 
Books run approximately $200. You will be responsible for providing your own pants, station boots and workout shoes.
Prices are estimates. 
---
To enter the McLennan Fire Academy you must meet the following criteria:
You must be eligible to be a firefighter in Texas. This means you may not have any felony convictions.
You must be eligible for entry into McLennan Community College and have either a high school diploma or GED.
You should discuss any Class A misdemeanors with the Chief Training Officer before attempting to enroll. If you have prior military service, we strongly recommend that if your DD214 is not either "honorable" or "general under honorable," you talk with the Chief Training Officer before attempting to enroll.
All cadets will engage in physical training. You must have a medical release from your physician.
Title IX & Non-Discrimination Statement
Concerns dealing with TITLE IX and other non-specified Civil Rights Issues contact:

Drew Canham, Title IX Coordinator Vice President, Student Success
McLennan Community College
Administration Building, Room 408
1400 College Drive
254-299-8645
FAX: 254-299-8654
dcanham@mclennan.edu or titleix@mclennan.edu
McLennan Community College provides equal opportunities to all individuals and does not discriminate against any individual regardless of race, color, religion, national or ethnic origin, gender, disability, age, veteran status, genetic information, sexual orientation, gender identity, pregnancy, or other legally protected category in its educational programs, activities, or employment. http://www.mclennan.edu/employees/policy-manual/docs/E-XXXIV.pdf
A lack of English language skills will not be a barrier to admission to and participation in career and technical education programs. La falta de conocimiento del idioma inglés no será un impedimento para la admisión y participación en programas de educación técnica y profesional.
McLennan Community College se compromete a proporcionar igualdad de oportunidades a todas las personas y no discrimina a ninguna persona independientemente de la raza, color, religión, origen nacional o étnico, género, discapacidad, edad, condición de veterano, información genética, orientación sexual, identidad de género, embarazo u otra categoría legalmente protegida en sus programas educativos, actividades o empleo. Para obtener información sobre el cumplimiento de esta política de no discriminación por parte dea institución, comuníquese con vicepresidente Éxito Estudiantil, 1400 College Drive, 254-299-8645, titleix@mclennan.edu.
For students in this program who may have a criminal background, please be advised that the background could keep you from being licensed by the State of Texas. If you have a question about your background and licensure, please speak with your faculty member or program director. You also have the right to request a criminal history evaluation letter from the applicable licensing agency.