Veterans
COVID-19 Pandemic Information: We are available to help by phone at 254-299-8432 or email to Felix Quinones at fquinones@mclennan.edu.
Veterans Information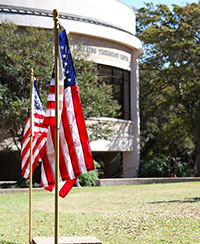 McLennan welcomes active duty service members, veterans and their families to its campus. We want you to achieve your educational goals and are here to help you transition to college life and manage any personal issues that arise from serving our country.
McLennan is a Servicemembers Opportunity College (SOC) campus, which means we're a military-friendly institution with flexible policies that allow mobile service members and their families to complete degrees rather than just accumulate course credit.
If you're a veteran or dependent of a veteran, the information on this site will help you get started at McLennan. If you have other questions, please contact Felix Quinones, Veteran Specialist, at 254-299-8432 or fquinones@mclennan.edu. Or stop by his office in room 212 of the Administration building.
Becoming a Student