Enrollment
Procedure for MCC CDC enrollment: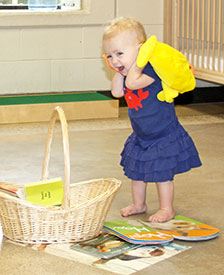 Fill out the application for waiting list and submit it directly to the CDC.
The center will call you when a space becomes available for your child.
Submit current immunization records.
Submit current physical completed by the child's physician.
The office will give you a yellow rate sheet to drop off at the Business Center.
Pay your Tuition and enrollment/supply fee at the Business office.
Bring your payment receipt to the CDC office.
Meet with the CDC Director for a transition schedule and parent orientation.
Your child may begin attending.
For more information…
Please contact Dr. Daelynn Copeland, Child Development Center Director, 254-299-8786, CSC D-04
dcopeland@mclennan.edu