Physical Therapist Assistant
Welcome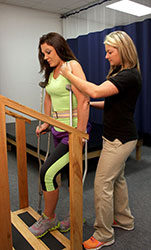 The Physical Therapist Assistant Program is a two-year associate degree program which begins each year in the fall. The curriculum provides theory, lab practice and clinical experience to prepare students to perform quality patient care. Upon successful completion of the program, the graduate is eligible to take the licensure exam approved by the Texas Board of Physical Therapy Examiners.
To Get Started
Admission to the McLennan Community College Physical Therapist Assistant program requires a competitive application process. To begin this process, applicants are strongly encouraged to complete all 5 of the general academic courses required for the program. The PTA program will allow applicants to re-take a course in an attempt to improve their general academic GPA. If you choose to do so, the grade for the re-take will be AVERAGED with the original grade during calculation of your GPA for admission to the PTA program. Visit the
Start Here
page for a complete list of the general academic courses. Applicants will also need to acquire 40 total hours of volunteer time as part of their application to the PTA program.
DO NOT wait until the last minute to begin volunteering as this process can take months to complete depending of facility policies and procedures
. Please visit the
Application & Admission Requirements
page for details on the application process.
Mission
The mission of the McLennan Community College Physical Therapist Assistant program is to facilitate the development of critical-thinking skills, clinical competencies and ethical decision making behaviors in accordance with the Physical Therapy profession to produce exemplary physical therapist assistant clinicians who contribute to our profession and community.
Accreditation
The Physical Therapist Assistant Program at McLennan Community College is accredited by the Commission on Accreditation in Physical Therapy Education (CAPTE), 3030 Potomac Ave., Suite 100, Alexandria, Virginia 22305-3085; telephone: 703-706-3245; email: accreditation@apta.org; website: http://www.capteonline.org. 
If needing to contact the program/institution directly, please call Heather Davis, 254-299-8715 or email hdavis@mclennan.edu
For More Information.
Please contact Heather Davis, Program Director, at 254-299-8715 or hdavis@mclennan.edu, or stop by the Community Services Center, Room C200,
For students in this program who may have a criminal background, please be advised that the background could keep you from being licensed by the State of Texas. If you have a question about your background and licensure, please speak with your faculty member or program director. You also have the right to request a criminal history evaluation letter from the applicable licensing agency.
Title IX
Concerns dealing with TITLE IX and other non-specified Civil Rights Issues contact:

Drew Canham, Title IX Coordinator
Chief of Staff for Diversity, Equity & Inclusion/Title IX
McLennan Community College
Administration Building, Room 408
1400 College Drive
254-299-8645
FAX: 254-299-8654
dcanham@mclennan.edu or
titleix@mclennan.edu
McLennan Community College provides equal opportunities to all individuals and does not discriminate against any individual regardless of race, color, religion, national or ethnic origin, gender, disability, age, veteran status, genetic information, sexual orientation, gender identity, pregnancy, or other legally protected category in its educational programs, activities, or employment.
http://www.mclennan.edu/employees/policy-manual/docs/E-XXXIV.pdf
A lack of English language skills will not be a barrier to admission to and participation in career and technical education programs. La falta de conocimiento del idioma inglés no será un impedimento para la admisión y participación en programas de educación técnica y profesional.
McLennan Community College se compromete a proporcionar igualdad de oportunidades a todas las personas y no discrimina a ninguna persona independientemente de la raza, color, religión, origen nacional o étnico, género, discapacidad, edad, condición de veterano, información genética, orientación sexual, identidad de género, embarazo u otra categoría legalmente protegida en sus programas educativos, actividades o empleo. Para obtener información sobre el cumplimiento de esta política de no discriminación por parte dea institución, comuníquese con vicepresidente Éxito Estudiantil, 1400 College Drive, 254-299-8645, titleix@mclennan.edu.