Business Technology Lab Support
WELCOME TO THE MCC BUSINESS TECHNOLOGY SUPPORT LAB!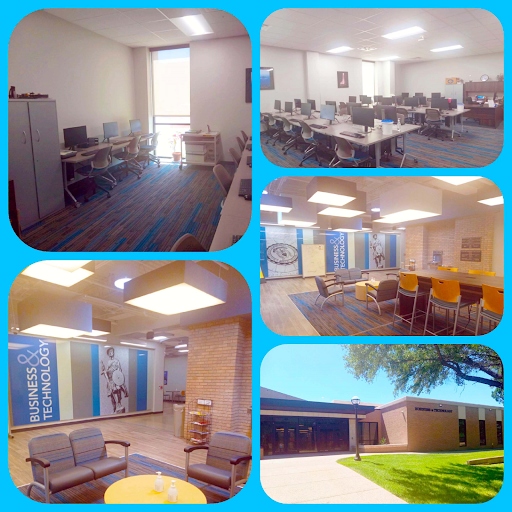 Our mission is to provide computer course support and walk-in assistance for CIS and OTC courses at MCC.
Support for Business Technology courses is available in the BT Lab in the Business & Technology building, room 103 and in the Learning Commons, which is located in the Learning Technology Center (LTC).
CONTACT

Location
Business & Technology Building (BT-103)

Phone
(254) 299-8216 (BT Lab)

Zoom
https://mclennan.zoom.us/j/2542998500

(Zoom Meeting ID: 254 299 8500)
Email
ast@mclennan.edu
Lab Hours
Monday - Thursday
8:00 a.m. - 7:30 p.m.
Friday      
8:00 a.m. - 3:00 p.m.
Saturday
9:00 a.m. - 3:00 p.m.
SERVICES
The BT Lab provides students with access to computers, printers, scanners, and software to meet their educational requirements. Headphones and webcams are available for checkout to use in the lab. Printing is available for 8 cents per page and is payable with the HighlanderOne card (MCC student I.D. card)




Software available in the BT Lab includes

Microsoft Office Suite (Access, Excel, Word, PowerPoint, Publisher)

Adobe Creative Cloud (Illustrator, InDesign, Photoshop, Premiere, etc.)

SAM Keyboarding 

Programming (C++, Python, JAVA Scripting, HTML /CSS)

Respondus LockDown Browser, for online testing

Brightspace, WebAdvisor, Student Email, Cengage and other web-based software

Assistance with Accounting courses is available, as needed, in the BT lab and the Learning Commons, located in the Learning Technology Center.  You may join us on

 

Zoom

where you will find Lab Instructors and peer tutors able to assist you.

Faculty and staff may request a lab instructor or tutor to come to their classroom to assist students using this form: Request Support and/or Presentation.
Business Technology Support STAFF
Brenda Castilow
Lab Instructor
E-mail: bcastilow@mclennan.edu
OC Beasley
Sr. Lab Instructor
E-mail: obeasley@mclennan.edu
(254) 299-8225
Melissa Fisher
Sr. Lab Instructor
E-mail: mfisher@mclennan.edu
(254) 299-8264
Peer tutors are also available to assist you.