Admission Criteria
Notice: The McLennan Community College Occupational Therapy Program will accept applications for the Fall 2023 cohort beginning January 3, 2023. Complete applications should be submitted by June 1, 2023. Prospective applicants are strongly encouraged to attend an information session and to meet with a program advisor.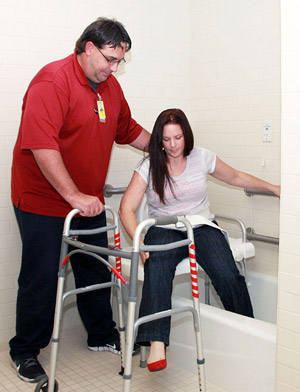 Mail application materials to:
OTA Program
McLennan Community College
1400 College Drive
Waco, Texas 76708
Admission Requirements
Minimum requirements that must be met at the time of application to be eligible for consideration:
18 years of age or older
High School graduate or equivalent
Must be TSI complete
Previously completed or actively enrolled in all pre-requisites
Must have a minimum GPA of 2.5 in prerequisite and co-requisite courses
Must have a minimum grade of C or better in all pre-requisites and co-requisites
International students must demonstrate English proficiency as met through The Test of English as a Foreign Language (TOEFL). Students must have a minimum Internet-based TOEFL score of 83 with a minimum score of 20 in each Reading, Writing, Listening, and Speaking. TOEFL results are valid only up to two years from the testing date; scores more than two years old will not be considered. TOEFL score reports must be sent directly from the testing center to the OTA Program Director.
View Admissions Criteria. 
Prerequisite Courses:
BIOL 2401 Anatomy & Physiology I
PSYC 2301 General Psychology
HPRS 1206 Medical Terminology
ENGL 1301 Composition I
Corequisite Courses:
BIOL 2402 Anatomy & Physiology II *
PSYC 2314 Lifespan Growth & Development *
3-Credit Hour Humanities Course (See Advisor) *
*Course may be taken as a corequisite.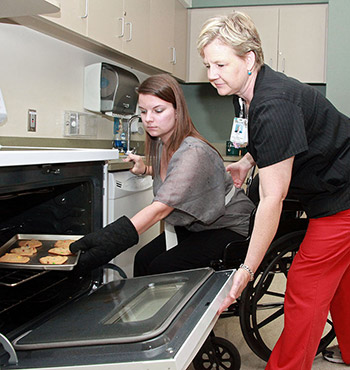 Applications will be evaluated and scored according to the scoring rubric. After the applications and preliminary scores are completed, the Health Professions Admissions Committee will meet to approve the admission of students to the Occupational Therapy Assistant program.
The program will begin in the fall semester of each year. 
Applicants must complete 40 hours of volunteer work or work experience in two different settings (20 hours each setting), using the McLennan OTA Occupational Therapy Experience form. Applications will not be accepted without these forms. Applicants must also submit two (2) Basic Workplace Skills Assessment forms with the application materials. One form must be completed by an occupational therapist or occupational therapy assistant. The other form may be completed by another reference (e.g. supervisor, teacher, employer, etc.).
Examples of occupational therapy settings:
Acute care hospital inpatient occupational therapy
Outpatient occupational therapy
Pediatric occupational therapy
Acute inpatient rehabilitation hospital
Mental health inpatient or outpatient setting
Skilled nursing facility
Home health occupational therapy
To be considered for admission to the Occupational Therapy Assistant program, students must submit all completed application materials in the OTA office by the deadline. This includes:
Completed application form
Transcripts (including MCC)
Two Workplace Skills Assessment forms
Two Occupational Therapy Experience forms (documentation of volunteer hours)
Verification of attendance at an OTA Program General Information Session (form received at time of attendance)
Additionally, applicants must complete all admission requirements for McLennan Community College.
Note: All applicants must submit an entirely new application packet EACH time they apply to the program. Incomplete applications will not be considered for admission into the OTA program.
Background Check Requirement
Admission to the McLennan Occupational Therapy Assistant program is conditional based upon completion of a criminal background check and drug screen.  Students are responsible for the cost of the initial criminal background check and drug screen.   If you have any criminal convictions, you should contact the program director for further advising.
NOTE: Licensure is required to practice in most states, including Texas. If you have a felony or misdemeanor conviction  (excluding minor traffic violations), it is your responsibility to contact the National Board for Certification in Occupational Therapy and/or the Executive Council of Physical Therapy and Occupational Therapy Examiners to determine eligibility for certification and licensure.
National Board for Certification in Occupational Therapy ( NBCOT) 301-990-7979 
Executive Council of Physical Therapy and Occupational Therapy Examiners ( ECPTOTE) 512-305-6900
It is the sincere desire of the faculty that you are able to enter the program and have a satisfying experience as a student, as well as enjoy a rewarding career in Occupational Therapy. Criminal background checks are performed for the safety of the patients, visitors, and workers in the hospitals and treatment areas.
Please do not hesitate to contact the program director or program faculty if you have any questions regarding criminal background checks.
Program Director, Occupational Therapy Assistant
254-299-8154