McLennan Wellness Program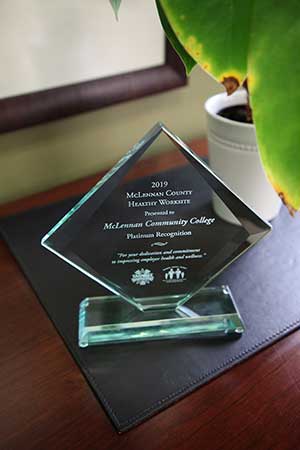 Spring 2021 MCC Employee Fitness Schedule:
Let's keep moving together! Wellness is offering a mix of in person AND virtual exercise classes open to ALL MCC employees.
Register in WebAdvisor prior to the start date. For registration instructions, click here.
Before attending class, please be sure to turn in your Spring 2021 Wellness Request Form. This form is for employees who work 40-hours/week and whose supervisors allow them to utilize the Wellness Benefit Policy
http://www.mclennan.edu/wellness/docs/Wellness_Request_Form.pdf
To participate in the live online classes, create a Zoom account with your work email address and personal password. You will only need to do this one-time. To join the livestream, log into your Zoom account first, select Join Meeting, and enter the meeting ID and password below.
Classes begin Tuesday, January 19, 2021
All classes are held in the Math/Wellness & Fitness Building.
Monday
4:15-5:00pm
Balance and Tone
Rm. 015 AND Zoom
Meeting ID: 264 285 998 Password: 011837
Tuesday
4:15pm-5:00pm
Total Training
Weight Room 119
Wednesday
4:30-5:00pm
Interval Cardio
Weight Room 119
Thursday
12:00-12:45pm
Functional Yoga
Zoom
Meeting ID: 962 6540 2608 Passcode: 883528
4:15-5:00pm
Total Training
Weight Room 119
We recommend adding these class days/times to your calendar as a reminder to attend!
On behalf of all the instructors, we are thankful for you and your participation.