Art Galleries
The Visual Arts Department at MCC maintains two (2) art gallery exhibition spaces on campus. Throughout the year the college will feature several exhibitions with the works of various artists, including two annual art competitions (one for MCC students and one for area high school students). Check the institution for dates and times, or see our Visual Arts Exhibition schedule for more information.
Our gallery locations are:
CSC F Gallery -



The CSC F Gallery is located in the Visual Arts Building , building F of the Community Services Center (CSC). What was once the "old" Waco High School complex has been renovated and the Visual Arts Department has a building to house all of our facilities. The CSC is located across College Drive (not on the main campus) and building F sits adjacent to College Drive and 19th Street (near the Highlander Station Post Office). To reach the gallery, simply enter the building through the main double-doors and walk forward. Up the stairs and to your left is the entry to the gallery. Hours for the CSC F Gallery are Monday - Friday, 9:00 a.m. until 6:00 p.m. , and some Saturdays.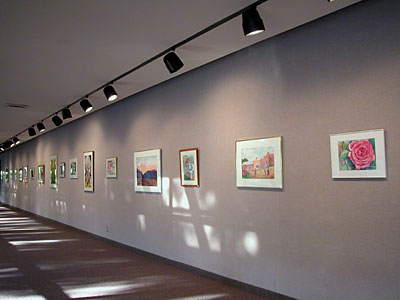 PAC Art Gallery - The Performing Arts Center (PAC) has a long display space in the foyer/lobby area of the theater. From time to time this space will be used to display various exhibitions. Hours for this gallery are Monday - Friday, 8:00 a.m. until 5:00 p.m. (unless there is a performance of some kind after hours, then this space will be viewable to the public).