Philosophy Department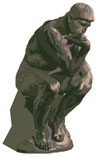 Welcome! We encourage you to allow us to help you in any way that we can in the academic exploration of the ultimate questions of life!
Mission
Our mission is to help our students learn to do better thinking, to introduce them to the deepest ideas in the human experience, and to equip them to do better choosing regarding the difficult decisions which life presents.
In addition to the basic Introduction to Philosophy (1301), we offer courses that emphasize developing better thinking abilities (PHIL 2303 Logic) and considering the bases on which people make moral decisions (PHIL 2306 Ethics). Moreover, courses that are sometimes categorized as "Religious Studies" are also included in our department. PHIL 1316 explores the development of the history and literature of the Jewish and Christian scriptures. PHIL 1317 examines the history of Christianity since the biblical era. PHIL 1314 World Religions investigates the various religious traditions around the world.