International Students
Welcome to MCC!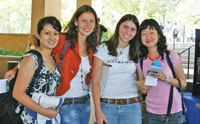 McLennan Community College welcomes students from all over the world. The college is dedicated to helping international students succeed both academically and socially during their time at MCC.
MCC's International Student Program is designed to help you through the processes of admission to the college, obtaining immigration documents, and adapting to a new environment and culture.
Use this website to find more information about what MCC offers in academics, activities, and the community. You can also learn specific information about applying to become an international student at MCC.