Resources
Our services and resources are available free of charge to all McLennan, University Center, Dual Credit and Adult Education students including those in online classes. Academic Support & Tutoring can be found in the Learning Technology Center (LTC) as part of the Learning Commons and include the following: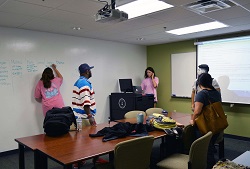 College Readiness and test preparation
Face-to-face tutoring and online tutoring (Smarthinking/Plato)
Individual/group study locations: various seating options and study carrels, study rooms & multipurpose rooms, commons, cafeteria, and more to suit your learning style and needs.
Technology: wifi, computers, audio/video recording, presentation spaces, document & book scanning, printing, 3D printing, poster printing, and more
NOTE
: Additional services and resources are available upon request. Students are encouraged to contact AST &
Learning Commons
staff with requests and needs.