Map to MCC's Performing Arts
Getting to McLennan Community College:
MCC is located in the North-West corner of Waco. See map below.
If arriving on I-35 from the north (Dallas/Fort Worth), exit at "TX-340-Loop/Lake Shore Drive" (Exit #339) and travel west (to the right) for about 6 miles. You will see the campus on the left.
If arriving on I-35 from the south (Austin), travel through Waco and exit at Martin Luther King Jr. Boulevard (Exit #335-C, just beyond Baylor). Turn left (west) on MLK Boulevard and travel about 4 miles until you reach the intersection with Lake Shore Drive. Turn left on Lake Shore Drive and in about 1 mile you will see the campus on the left.
Click here for the Google map.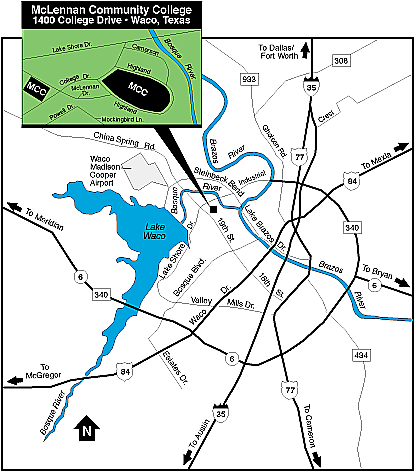 Note: The Ball Performing Arts Center is also referred to as the PAC, the BPAC, or "the theatre."
Parking on campus varies according to the time of day. Lots K and A have the closest available parking to the BPAC. Please note that Lot K is gated (closed) until 2 p.m., Monday-Friday. From Lot K, the BPAC is the large building on your left. You will follow the main sidewalk about 20 yards and enter through the glass doors into the BPAC lobby. From Lot A, follow the sidewalk to the left of the Enrollment Services Center (ESC). The BPAC is the second building to your left near the fountain.
Finding the rehearsal hall (PAC 145) and practice rooms:
Upon entering the lobby of the BPAC, turn left and proceed past the restrooms and water fountain. Turn left at the hallway, then right at the practice rooms. Room 145 is located at the end of the practice room hallway just to the right down a few steps. If you are auditioning for a music scholarship, students will greet you in the BPAC lobby and help you get oriented.
Finding the music faculty studios/offices:
Music faculty studios/offices are located in both the Ball Performing Arts Center (BPAC) and the Music & Theatre Arts building (MTA), which is adjacent to the BPAC. Upon entering the lobby of the BPAC, turn right and walk to the far end where you will find the Box Office. The faculty studios/offices are just beyond the Box Office. In the MTA, offices are located around the circular hallway.
---
Looking for the Bosque River Stage? Click here