Robert Satchell
Major: Real Estate
Hometown: Waco, Texas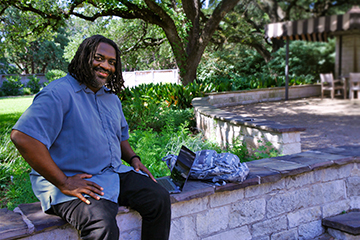 Waco native Robert Satchell says MCC has invigorated his education throughout his life.
After graduating from Waco High School in 1987, he started here, but it didn't go as planned.
"My early career at MCC was laughable," he recalls. But he re-enrolled in night classes and earned enough credits to transfer to Texas A&M in 1995. There, he earned a bachelor's degree in English and became a teacher.
Now, as a non-traditional student, he is working on a real estate certificate and plans to finish in the Spring of 2020.
What does he like most about MCC? "The flexibility and great instruction. MCC has down-to-earth, approachable instructors. I've been able to talk to them in challenging classes that I've had. You're not just a number there. ... It's for the working person. I don't think that's a secret to anyone."
He said MCC has been his best college experience.
"The campus really serves the student, so the student is essential to MCC. It's not just a phrase or some mantra. It's centered around the students."