Virtual Scholar, Donor, & Alumni Appreciation Event
---
Welcome   Distinguished Speaker   Major Donors   New Scholarships
Scholarship Recipients   Distinguished Alumnus   Distinguished Leader
---
Welcome Message: Kim Patterson
Thank you for attending our Virtual Scholar, Donor & Alumni Appreciation Event with the MCC Foundation! This year has been like no other the world has seen, but the MCC Foundation has remained steadfast in our mission to serve our students, college, and community by raising funds for scholarships, emergency aid, capital improvements, and professional development. In addition, we are proud to recognize MCC excellence with our Distinguished Leader and Distinguished Alumni Award winners. We hope you will take a moment to visit the features on this site and celebrate with us as we work for an even better tomorrow.
---
Distinguished Speaker: Russ Johnson
Russ Johnson is Chief Executive Officer of True North Consulting

Group in  Waco, Texas. Russ began his college career at McLennan Community College, where he came after a life-altering car accident during his senior year of high school. Here, he found a caring community that helped him move forward with his college journey. Russ began his career in 1998 as Managing Principal and Chief Executive Officer of a regional technology integrator. Wearing many hats, he sought to become an expert in as many technologies as possible by achieving associate, professional, and expert certifications in routing, switching, unified communications, wireless, data center, storage, and more. For over 15 years, this company would grow to nearly 150 employees and $50 million in sales under his leadership. Russ then assembled the best in the business and founded True North Consulting Group in 2014. Today, True North Consulting Group consists of nearly 50 consultants and provides technology to municipalities, schools, and businesses across the country. Russ remains grateful to the caring people at MCC who helped him achieve his dreams.
---
2019-2020 Major Donors
We gratefully recognize these donors who have provided significant support to our college and students this year.*
Dr. April K. and Derek Andreas

Brazos Higher Education Service Corporation | Mr. Ben Litle

Capstone Mechanical | Mr. Rick Tullis

City of Lacy Lakeview | Mr. Keith Bond

Community Bank & Trust | Mr. David Lacy

Cooper Foundation

Mrs. Jimi L. Davidson

Mrs. Kathleen P. Eden

Educators Credit Union | Mr. Joe Hutyra

Mrs. Dottie R. Fornoff

Mr. Gary D. Tully, P.C.

Mrs. Sue Getterman

Mr. and Mrs. Douglas G. Gibson

Great Western Dining Service, Inc. | Mr. John Nilges

H-E-B | Ashlee Clary, H-E-B Public Affairs

Ms. Anna A. Hamilton

Cecil Leon Hill Estate Trust | Mr. Blake Raines, Trustee

Keurig Dr Pepper | Mr. Michael Haferkamp

Dr. and Mrs. Donald K. Lewis

MCC Agriculture Club

MCC Medical Assistant Student Association (MASA)

Drs. Stanley and Johnette McKown

Drs. Bill and Ruth Pitts

Dr. and Mrs. Ross Reagan

Redwoods, Inc. | Mr. and Mrs. Greg Evans

Sam E. and Henrietta Arlene Paul Estate | Mr. Bob Bestor, Executor

Mr. and Mrs. Vernon Sauter

Judge Ken and Alice Starr

Ms. Barbara Tabor

Texas Higher Education Foundation

Mr. and Mrs. Rick Tullis

Mr. Tommy Edds and Lise Uhl

Waco Foundation

Waco Sunrise Rotary Club

Women United of United Way of Waco McLennan County
*Through August 19, 2020
---
Newly Created Scholarships & Legacy Gifts


Brenda Bradley Memorial Scholarship

Capstone Mechanical Engineering Scholarship

Cecil Leon Hill Estate

Friend of MCC Family Scholarship

Gene Gooch Memorial Scholarship

Henry L. Campbell, Jr. Scholarship

Ken and Alice Starr Scholarship

MCC Agriculture Club Scholarship #2

MCC Foundation Board Presidential Scholarship #2

Martie and Vern Sauter Scholarship

McKamey MGOC Scholarship

Mr. and Mrs. Bronson B. T. Eden Engineering Scholarship

Murray Watson, Jr. Presidential Scholarship #13

Proven Scholar in Engineering Scholarship

Sam E. and Henrietta Arlene Paul Scholarship

Ted and Sue Getterman Presidential Scholarship

Tullis Family Presidential Scholarship

Turner Family Scholarship

Visual and Performing Arts General Scholarship
---
2020-2021 Scholarship Awards
---

2020 Distinguished Alumnus: Dr. Solomon Cross
Music brought Dr. Solomon Cross from Cleburne to MCC to pursue his dream of becoming a vocal performer. Lacking resources and a place to stay, he first commuted daily, and then bunked with friends for a time. A scholarship funded by Hearts in the Arts helped him cover tuition and fees. After MCC, he continued his studies at the University of Houston, the prestigious New England Conservatory of Music, and Texas Wesleyan University.
Dr. Solomon Cross now serves as Vice Provost for the School of Creative Arts, Entertainment, and Design at Dallas College ... he is a Fulbright Scholar, and he was recently named McLennan's Distinguished Alumnus!  Dr. Cross exemplifies why we do what we do at McLennan: he is an artist, a teacher, a scholar, and a leader who is changing the next generation of young lives.
---

2020 Distinguished Leader: Nallely Gonzalez
Nallely Gonzalez began her journey at MCC through the Dual Credit Program. She graduated from La Vega High School with two MCC certificates and she is a certified nursing assistant (CNA). Additionally; she was the 2018 valedictorian of her 191-student class. Nallely loves to help people, which is why she chose to attend MCC and become a nurse.
Nallely has been a member of the MCC Presidential Scholar Program since 2018. As a Presidential Scholar, she met with the college president and community leaders, went on a study tour in Washington, DC, helped host Churchill Biographer Dr. Andrew Roberts, and volunteered in several nonprofits in our community. In addition, Nallely was nominated for the 2020 Spirit of HEB award for a social media post that went viral, in which she was recognized for her patience with an elder military veteran. Nallely is the perfect example of MCC's values: People, Inclusiveness, Communication, Excellence, and Integrity.
---
In Memoriam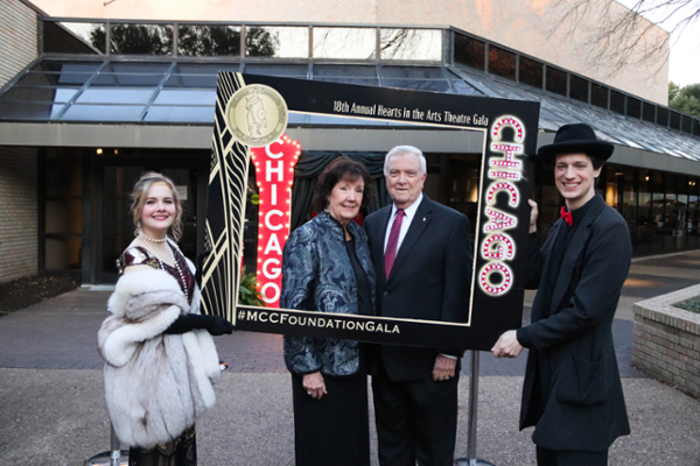 Charles W. Moore, 1940-2020
In loving memory of Charlie Moore, an amazing board member, the steady chair of the MCC Foundation Finance Committee, and an incredibly kind friend to McLennan Community College. We will miss him.
With thanks to the leadership of the MCC Foundation Board: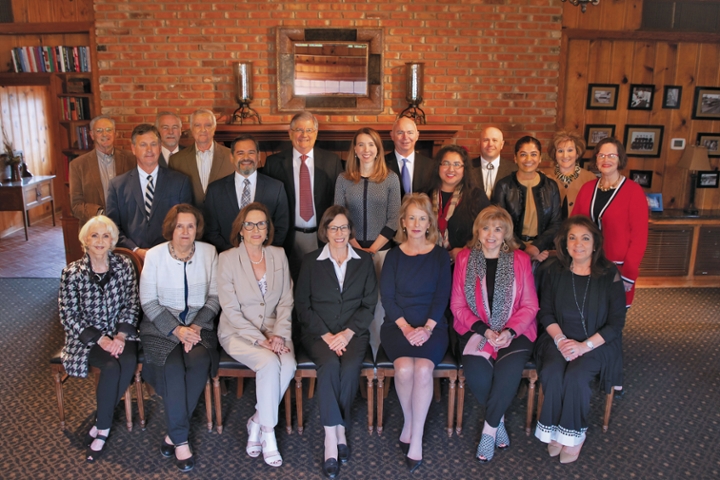 Front row, left to right: Nell Hawkins, Dr. Johnette McKown (Secretary), Judge Vicki Menard, Linda Hatchel (Chair), Missy Larson, Glenda Strum, and Priscilla Stinnett
Middle row, left to right: Rick Brophy (Vice-Chair), Alfred Solano, Elisa Rainey, Mary Perez, Nashim Hamilton, and Ellie Morrison
Back row, left to right: Dr. Donald K. Lewis, Ted Teague, Charlie Moore, Judge Rex Davis, Trammell Kelly, Dr. Andrew Canham, and Kim Patterson (Executive Director)
Not Pictured: Judge Vikram Deivanayagam, Bill Dietz, Jr., Dr. Sandra Goss, Doug McDurham, Betsy Reeder, J. Clay Sawyer, M.D., and Geneva Watley
---
The work of the MCC Foundation, and this recognition event, would not be possible without the professionalism, commitment, and energy of the exceptional MCC Foundation Staff:
Neyra Bazaldua, MBA ─ Coordinator of Special Events and Alumni Engagement
Shelley Cotton, MBA ─ Coordinator of Operations and Scholarships
Rose DeLeon ─ Executive Secretary
Kathy McLendon, MHSA ─ Director of Resource Development
Additional thanks to Daniel Brown, Assistant Web Developer, Online Technologies at McLennan Community College for creating this virtual event.
---
Thank you for attending our Virtual Scholar, Donor & Alumni Appreciation Event—we hope to be back with you in person next year!
---
McLennan Community College Foundation • 1400 College Drive Waco, TX 76708
254.299.8604 • foundation@mclennan.edu