Business Programs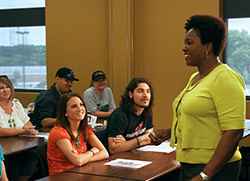 MCC's Business Programs are designed to provide students with skills and knowledge applicable to a broad range of business positions. The A.A.S. degrees in business include a common core of business courses, which provide a foundation for further specialization. Business Programs in accounting, general business, management, marketing and real estate are offered as areas of specialization.
Mission
The mission of Business Programs is to provide quality education and training in accounting, management, human resource management, team-building, general business, real estate, leadership and entrepreneurship. This instructional department is responsible for improving the planning, leading, organizing, controlling and decision-making skills of learners; creating an entrepreneurial spirit within our students; improving the academic persistence among students through advising, counseling and tutoring; and increasing the training opportunities and qualifications for workers needed in local organizations.
For More Information
Contact Annette Bigham, Business Programs director, at 254-299-8690 or abigham@mclennan.edu.
Title IX
Concerns dealing with TITLE IX and other non-specified Civil Rights Issues contact:

Drew Canham, Title IX Coordinator
Chief of Staff for Diversity, Equity & Inclusion/Title IX
McLennan Community College
Administration Building, Room 408
1400 College Drive
254-299-8645
FAX: 254-299-8654
dcanham@mclennan.edu or
titleix@mclennan.edu
McLennan Community College provides equal opportunities to all individuals and does not discriminate against any individual regardless of race, color, religion, national or ethnic origin, gender, disability, age, veteran status, genetic information, sexual orientation, gender identity, pregnancy, or other legally protected category in its educational programs, activities, or employment.
http://www.mclennan.edu/employees/policy-manual/docs/E-XXXIV.pdf
A lack of English language skills will not be a barrier to admission to and participation in career and technical education programs. La falta de conocimiento del idioma inglés no será un impedimento para la admisión y participación en programas de educación técnica y profesional.
McLennan Community College se compromete a proporcionar igualdad de oportunidades a todas las personas y no discrimina a ninguna persona independientemente de la raza, color, religión, origen nacional o étnico, género, discapacidad, edad, condición de veterano, información genética, orientación sexual, identidad de género, embarazo u otra categoría legalmente protegida en sus programas educativos, actividades o empleo. Para obtener información sobre el cumplimiento de esta política de no discriminación por parte dea institución, comuníquese con vicepresidente Éxito Estudiantil, 1400 College Drive, 254-299-8645, titleix@mclennan.edu.