Pauline Chavez
District 3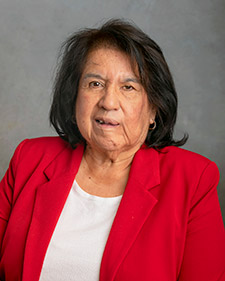 Employment: Retired Registered Nurse: I received an Associate Degree in Nursing from MCC. I worked at the Veteran's Administration Hospital for 34 years. I started off at the VA as an LVN and kept a full-time job while attending college. I am a member and volunteer at St. Francis Catholic Church.
Why I became an MCC Trustee: Someone once said to me: "You're a household name. You should run for the MCC board." I enjoy being involved with the students and the people of the College.
What I like most about being an MCC board member: I like helping people. It's good to know that local students are able to succeed and to make their way in life in large part due to the education that they receive at MCC.
MCC benefits the community by: I think MCC best benefits the community by striving to serve the diverse educational needs of those in the community.
How my experience with MCC has affected my life: All three of my children have attended or will attend MCC.