Doug McDurham, Secretary
District 1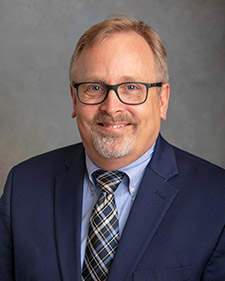 Employment: Director of Programs, Texas Hunger Initiative, Baylor University •
Affiliate Faculty, Diana R. Garland School of Social Work, Baylor University
Why did you become a Trustee? There is a direct correlation between the success of Waco and the work of McLennan Community College. I've invested my professional career and my volunteer work in improving educational options for all people, so I'm humbled and honored to be able to serve my community as a trustee of this great institution.
What do you like most about being a Trustee? I appreciate the opportunity to hear and see how the faculty is making content come alive and preparing our community's next generation of leaders. This campus is awe-inspiring, but it pales in comparison to what is going on in our classrooms.
How does MCC benefit the community? MCC is local people obtaining a top-notch education in order to work and serve in our local community. Our health and safety are protected by MCC graduates. Our children are educated and our businesses are run by MCC graduates. MCC doesn't just benefit our community, MCC is our community.
How has your experience with MCC affected your life? I had been in Waco for less than a month, when I was invited to serve on the MCC Mental Health Advisory Board and the MCC Adult Education Advisory Board. It was exciting to support these great programs, but it was also a great way for me to become acquainted with Waco and the amazing people who live and work here. In addition, my wife earned her doctorate by taking classes through the University Center and both my sons have taken courses on campus, so MCC is a valued educational resource on a personal level.